Scott Houston
MSc & Clinical Diploma
Counsellor / Psychotherapist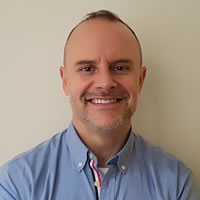 My name is Scott Houston. I was born in Glasgow, Scotland where I grew up. Prior to arriving in Sydney, I spent 13 years in London where I trained as a Psychotherapist with a Masters Degree in Integrative Psychotherapy and a Clinical Diploma in Integrative Psychotherapy.
My talking therapy approach offers empathy, understanding, is non-judgemental, and is conducted in an environment that is confidential and safe, as we sensitively explore your thoughts, feelings, relationships, family history and past traumas or deficits, to make sense of these issues, so that you feel relief from your distress and can once again have greater control of your own life.
I draw upon different schools of psychotherapy to establish how the past might be impacting the present and how current issues in your private or working life may be causing you difficulties or distress.
I work relationally, placing you – the client – at the heart of the process, and it is this dual relationship that can work as a transformative force for change, growth and healing to help you recover from whatever problems are troubling you.
The therapeutic relationship that you and I create, together, can be a source of support and comfort, while providing a place in which to make sense of these issues, challenge perceptions, and highlight unhelpful behavioural and thought patterns, so that you learn new ways of relating and ultimately be your authentic self to enjoy living again.
I have an MSc in Integrative Psychotherapy, a Clinical Diploma in Integrative Psychotherapy and I am a professionally registered member of the UKCP.
I work with
Anxiety / depression
Unhelpful / obsessive thoughts and behaviour patterns
Relationship / attachment problems
Psycho sexual issues
Addiction
LGBT matters
HIV & Sexual health
Shame / low self-esteem / low self-worth
Self-harming
Trauma
Suicidal feelings
Bereavement and loss
Career / work-life balance
Work-related issues / stress
I work online, via phone or face-to-face.
My fee per session is $150
Medicare does not currently offer rebates for counselling and psychotherapy.